A while back, I
blogged about a conversation
I had with my friend
Julie
on how to grow your business and keep things fresh and new. After that post, I had a few readers e-mail me and say they would like to hear from Julie, and see what kind of insight she could offer. She graciously agreed to write up a guest post with some tips and advice on how to grow your handmade business. Thank you so much Julie!
Alison has asked me to write a little about some things that have helped make
my own Etsy shop
grow. Now, you should just know, I am by no means wildly successful, I'm not even earning a living wage.
But,
my shop is steadily growing and there are several things that I know have contributed to it's growth. If I had oodles of time (ie didn't have three small children dependent on me 24 hours a day, farm animals, fence maintenance, hay hauling, ballet classes, homeschooling, play dates, co-op planning... you get the drift.) I could devote more time to my shop and watch it grow faster.
But, regardless of whether you are a busy mom, have a full time job or your online business is all you've got going on (yeah, sure), perhaps some of these points can help you or at least inspire you.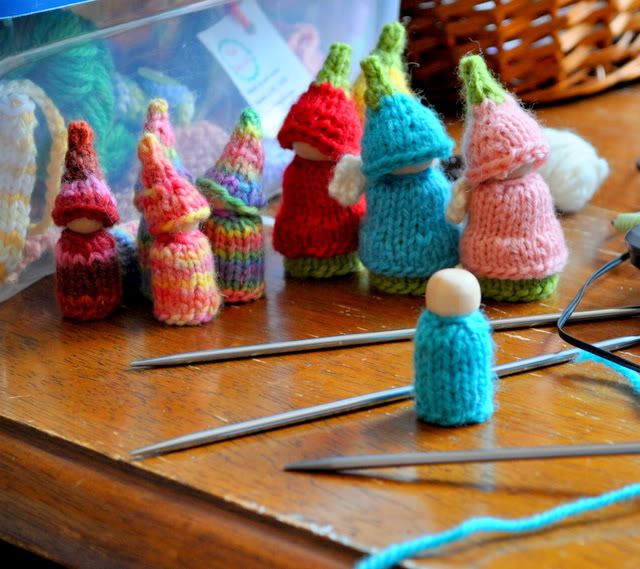 - I keep my shop stocked FULL. At least a hundred items. Lots of things to choose from. Yes, I know that's a lot of items, and it will take quite a bit of work to get to that number. But I know that, as a shopper, I will often leave a shop if they don't have much for me to choose from. Also, if I really like an artisan's style, I want more from them.
Now, how you keep those virtual shelves full is up to you. You can fill it with items
as you make them
, maybe making all one-of-a-kind items. Or, you can keep the same items (same photos, same descriptions) in stock all the time and make them to order. There are pros and cons to both methods, you just need to decide which works beast for you. You can also do a bit of both, as I do.
- I'm very picky about what I will put in my shop. Some things I make and just decide, while they may be lovely, they don't match my aesthetic. I think that staying true to your 'brand' is very important. And if you haven't figured out what your aesthetic is, then you need to spend some time working on this. Allow your creativity to roam, play with ideas, make things and reject lots of them, find what you are passionate about making and
find you unique voice
!
But don't let something pass through your shop that is not consistent with your brand. This doesn't mean you can't branch out a little, but you need to decide if it
fits
. I make toys, yes, but they're knitted from wool and, really, the theme of my shop is 'cosy for the whole family'. So, for me, woolen plaques for the home and wool gloves for mama fit nicely.
- Occasionally I will discard an idea simply because it's been done. I work toward having unique product so that, when someone comes into my shop, they don't not buy simply because they found a better price in someone else's shop. If my item is unique, they can't find it anywhere else. I see so many shops get sucked into 'this item is working so well for all these other shops, I'm going to make it and cash in, too.' Then that market becomes saturated and only the very best will rise to the top, not too mention, their shops don't stand out. They fade into the sea of look-alikes.
Handmade means something different to everyone. Some are only interested in supporting 'the little people', the artisans trying to make a living on their creativity and hard work. Some want to support local economy. And some are looking for a product that is genuinely unique and imparts the artisan's soul and passion for their work. Are you conveying your passion or someone else's?
- I'm sure you've heard it time and time again, but pictures really are super important. And once again, you need some consistency here. Your pictures are part of your branding and buyers should be able to recognize your style. People buy packaging and, online, our pictures are our packages. Mine aren't super, but they're a work in progress and I practice and try taking them is different places and from different prospectives/angles. I'm always learning and (I hope) getting better.
- But, I think my number one tool is,
CREATE SOMETHING NEW ON A REGULAR BASIS
! New, fresh product is imperative. Not just another color of the same thing or, look, this one has a flap.
NEW!
Exciting! Regular brainstorming sessions need to be going on. And find out where your inspiration comes from and pay attention! For me, it's nature and the changing seasons and my children. This may come off really cheesy but it's true and I don't know how how to say it... when I am outside, I'm paying attention, I'm listening, I'm open. I open my mind way up and by now it's already trained to see things as becoming toys. And things will come to me and I'm knitting them up as soon as possible. Or, I see my children playing a particular way or they need something to go with their play. This is how I am inspired and I stay open to these things.
New product
moves
. If a shop, that I may love, never puts anything new in there, I stop going by. I've already seen what they have to offer. So, keep it fresh!
Well, I think that's about all I've got. Like I said, I keep these things in mind and have seen my little business grow tremendously in the past 2.5 years. I hope there's something here that will help you, too.